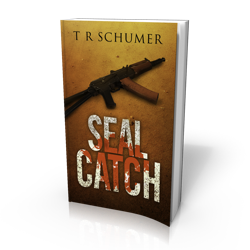 Order the eBook
Order the Paperback
From the Amazon best-selling author of Death Catch comes T. R. Schumer's heart-stopping conclusion to The Fearless Trilogy.
"Seal Catch is action packed from sea to desert and as I was deeply immersed in the story, the veteran team became part of my soul and I certainly did not want the book to end." Amazon Customer review
A chance encounter in the Seychelles catches ex-Navy SEAL Alex Moss off guard, but what comes next could kill him. She was only there for a moment, but then he found the flash drive, a scrawled threat with his name on it, and now he can't get her face out of his head. Was there a lapse in judgment? Maybe . . . probably . . . but now the trigger's been pulled, and there's no going back . . .
Book three begins as Alex Moss takes command of Fearless, one of the world's premier science research vessels. For Moss, first mate Malcolm Rafferty, and their crew of combat veterans, it's the perfect opportunity for men who seek nothing more than a quiet life at sea. But what should've been a dream assignment is shattered to bits by a lethal pirate encounter off the Horn of Africa, and a hostage situation that escalates into a deadly battle Moss and his crew will be forced to fight across sea, air, and land . . .